Bob Mini Dishwasher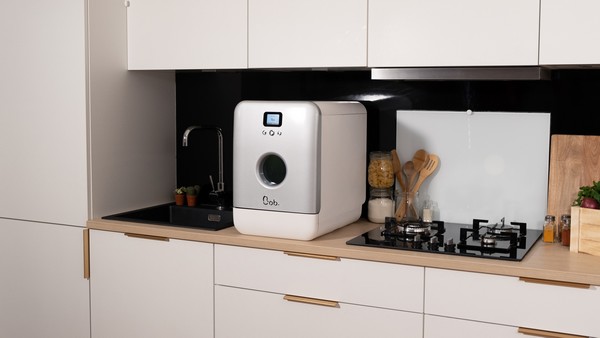 Bob is an autonomous and ultra-compact dishwasher suitable for small spaces. Just plug it in, put the dishes in, fill it with water and start the washing cycle.
Despite being small, this mini dishwasher can wash the daily dishes of two people (up to 29 cm in diameter) in just 20 minutes. For its operation it requires a minimum use of energy and water. It consumes only 0.35 kWh and uses less than 3 liters of water per cycle, which is 5 times less than hand washing.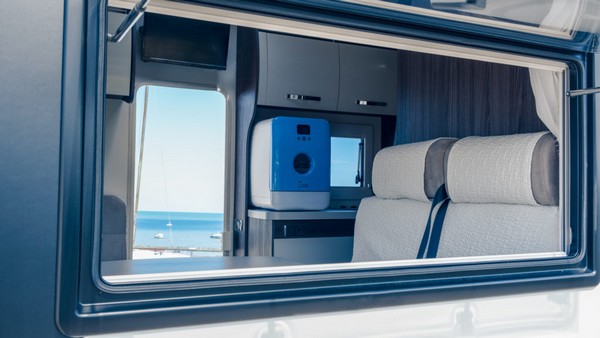 It is equipped with an integrated tank, so there is no need for a dedicated hydraulic system.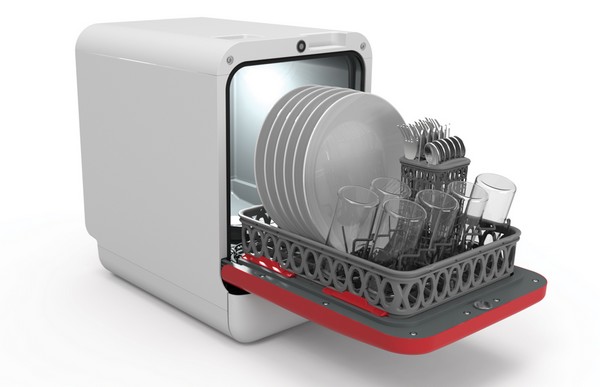 This mini dishwasher is inspired by professional dishwashers, offers a modular basket for all occasions and has an automatic magnetic door opening to facilitate natural drying.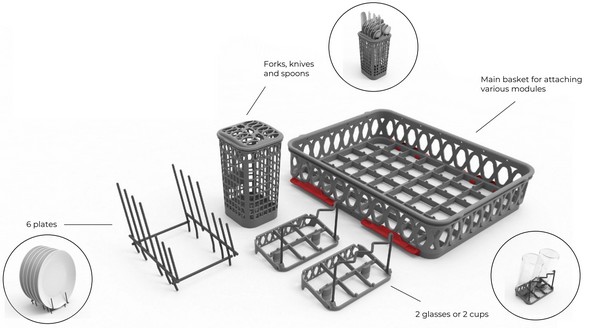 The water supply can be made through connection to the water grid like a traditional dishwasher or, using the integrated tank for autonomous operation.
(Watch the video )
The tank is refilled from the front, the water is poured as in a coffee machine, an acoustic signal warns when the tank is full.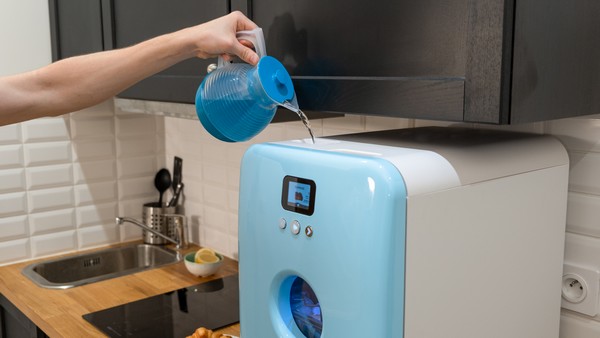 A 1.5 meter long inlet hose (optional) is available as standard, while the 1.5 meter long drain hose is included.
Bob is equipped with a drain pump so it is sufficient to place the hose directly in the sink, in a basin, a canister, or in a waste water drain (the drain point must be at a maximum height of 1.20 meters).
As an option, the UVC ultraviolet ray sanitizer mode is available which kills bacteria and viruses in just 20 minutes, using a dry cycle, on all types of objects: masks, plates, wallets, keys, etc.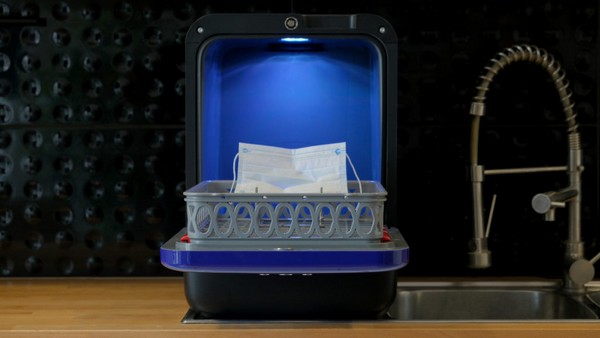 To ensure safety when using the UVC disinfection mode, Bob stops the treatment automatically and immediately, when the door is opened. In addition, the door window is treated with an additive to filter UVC and let only visible light through.
As for the detergent, it is preferable not to use dishwasher tablets, in fact, in short cycles, they do not have time to dissolve. Instead, it is preferable to use Daan Tech products.
For maintenance it is sufficient to run an empty cycle once a month, and clean the heating disc with a damp cloth.
Technical features
| | |
| --- | --- |
| Load capacity | Crockery for 2 people: 4 plates, 4 glasses, 2 cups, a small pot or pan and cutlery |
| Max size of plates | 29 cm |
| | |
| Number of programs | 5 standard: Express, Daily, Intensive, Glasses, Eco |
| Duration of the express program | 20 minutes (only) |
| Water consumption | 2.9L (Express cycle) |
| Washing temperatures | 30-70 ° C |
| | |
| Dimensions | L 34 cm x H 49 cm x D 49 cm |
| Weight | 10.9 kg |
| Tank capacity | 3.9L |
| | |
| Disinfectant function | Ultraviolet Germicidal Irradiation (UVGI) Bob ultraviolet sterilizer (optional) |
| Lighting | RGB LED multicolor system |
| | |
| Interface | 320x240px color LCD screen |
| Connection | Wifi |
| | |
| Power supply | 220-240 V ~ / 50 Hz |
| Power | 1000W |
| Rated current | 10 A |
For more information, visit the website.