Garden Root Cellar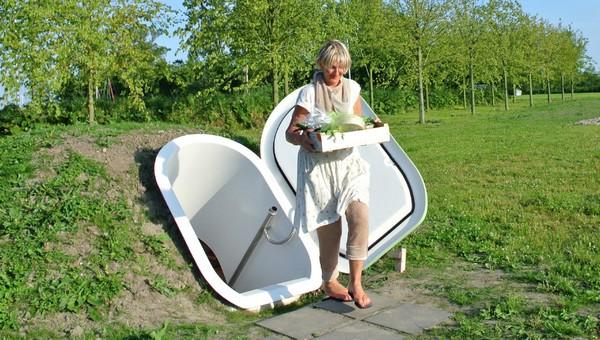 Groundfridge is a small prefabricated cellar to be installed in the garden, ideal when there is a minimum of free surface available.
This system takes up a technique of conservation of food stocks dating back to centuries ago, when the current distribution and refrigeration systems did not yet exist.
It is basically, a food storage system without a refrigerator, but simply by exploiting the properties of the earth and the natural exchange of air as a function of the alternation of day and night.
(Watch the video )
Groungfridge, is an innovative version of the old cellar, a system that meets the needs of people or companies who need to store products from the garden or, for example, a place to store their wine collection.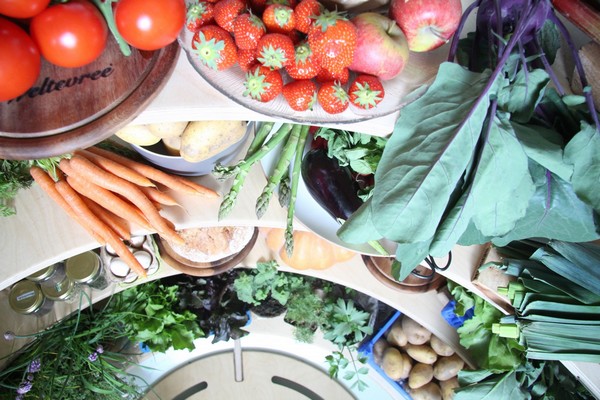 The Groundfridge exploits the insulating capacity of the ground and the temperatures of the night air through the air exchange. The insulation allows the internal temperature to remain constant and fresh throughout the year, an ideal microclimate, for example, for storing fruit, vegetables, wine and cheese.
A timed fan (battery powered) ensures air exchange by introducing fresh air during the night.
If necessary, an additional cooling device may be installed for hot climate areas.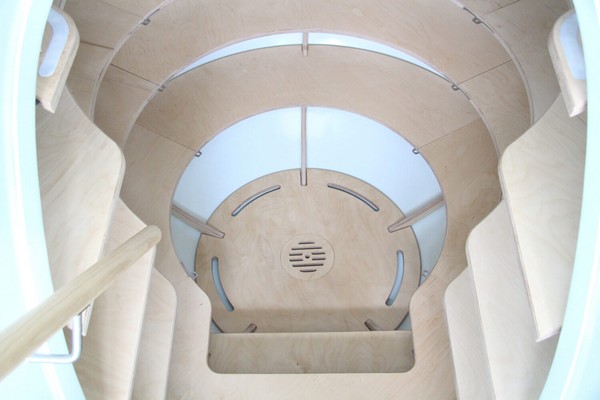 This prefabricated cellar is a single product, lightweight, easy to transport and install.
For installation, it is necessary to dig a hole about 2 meters deep, place the monoblock on the bottom, level and then cover everything with excavated earth, leaving the door visible.
The cellar will be surrounded by about 1 meter of the same soil resulting from the excavation, so disposal is not necessary.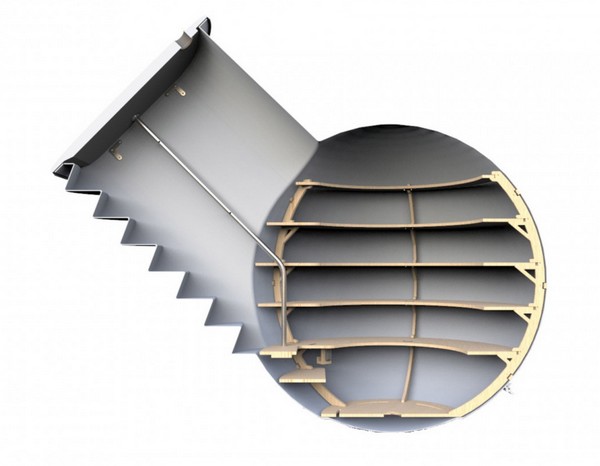 The structure is made of fiberglass layers and insulating material, the door is watertight with hinges and accessories in stainless steel. The basement compartment can be reached via the staircase that is run in a normal standing position, the interior is large enough to comfortably accommodate 2 people, a moisture-resistant plywood shelving is supplied.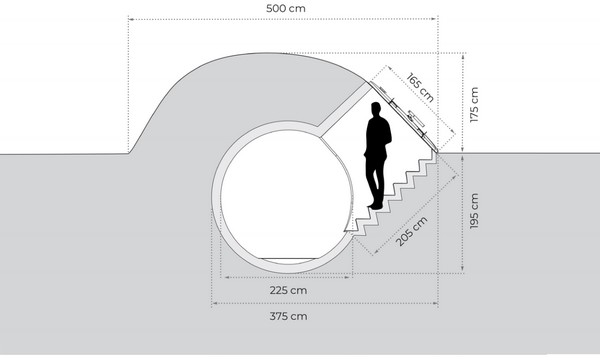 Technical specifications
| | |
| --- | --- |
| Sphere diameter | ø 228 cm |
| Internal height | 210 cm |
| Total volume | 7.85 m 3 |
| Sphere volume | 6.21 m 3 |
| Storage capacity | 3,000 liters |
| Weight | 300 kg |
| Depth | 220 cm from the ground floor |
| Diameter of the hill | ø 5 meters |
| Height of the hill | 150 cm |
| Material | Fiberglass and polyester |
For more information, visit the website and to find out the sales price, click here.