Four Wheeled E-Bike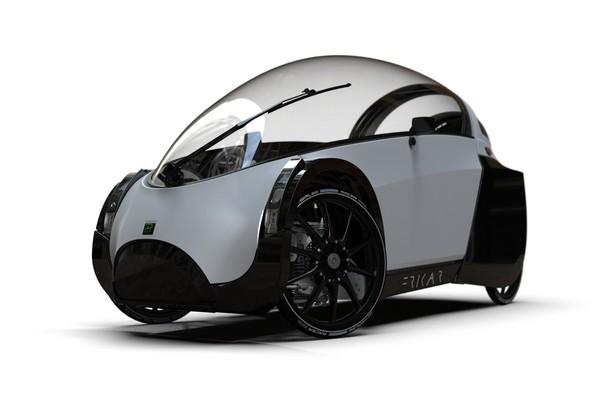 Frikar is an e-bike with four wheels, fully covered that provides protection from weathering. Traction is like electric bikes, based on human force assisted by an electric motor that comes into action only when pedaling, allowing you to reach the speed of 25 km/h.
It's possible to achieve higher speeds with the help of wind and gravity. When the speed exceeds 50 km/h (downhill) the electric motors automatically begin to brake the vehicle. The maximum speed is about 60 km/h (only downhill possible).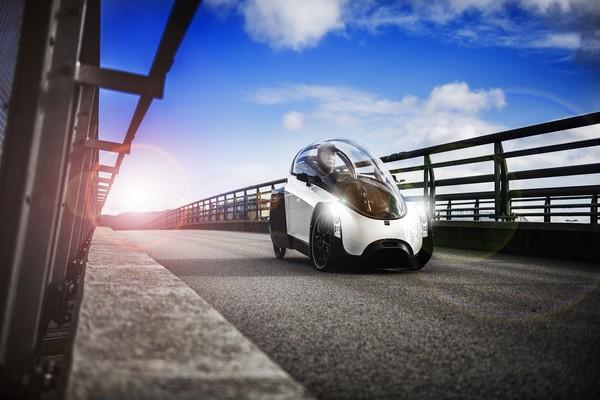 The Frikar e-bike has been designed to combine comfort and practicality from cars with low environmental impact and the healthy lifestyle of cycling. This four-wheeled e-bike is made of recyclable materials that together with high efficiency, result in personal transport with minimal environmental impact.
The design work took into account important aspects such as road visibility, aerodynamic efficiency, comfort and sustainability.
Its unique design offers low air resistance, ride comfort is excellent and great stability is guaranteed by the four wheels.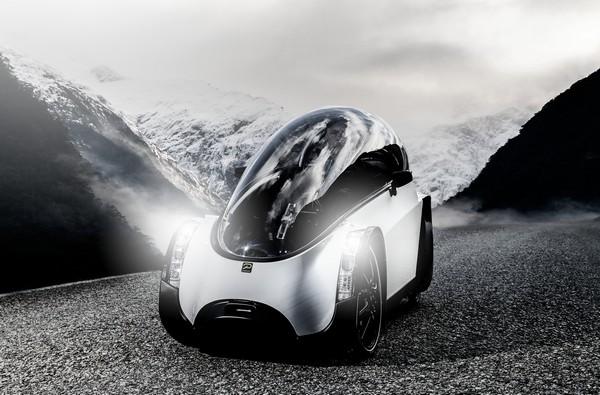 The lights and indicators make it easy to spot. There are lights in front and back, as well as turn signals on each side. These are redundant lights, powered by two power supplies both front and rear so that in the event of a malfunction there are still lights on. Depending on the country of use there are also reflectors, marked with the "Z" in the case of Germany.
Internal safety is ensured by zones of controlled deformation that absorb the energy of impact, by protection against overturning and by the safety belt (optional).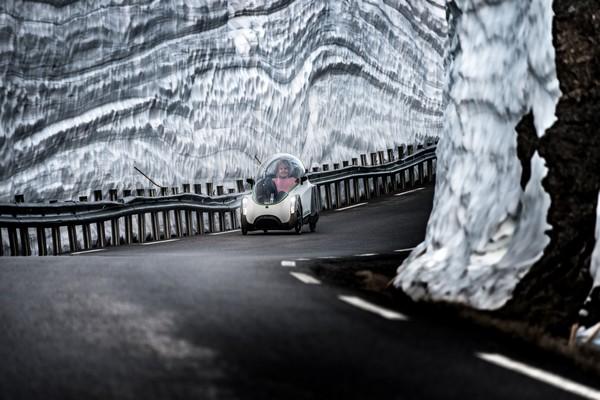 The Frikar ebike, is designed for the northern climate, offers complete weather protection and also the inlet air filter and cabin heating (optional) are available.
Parking is not difficult, the footprint can be reduced to a minimum by placing the vehicle on the back. Standing on his tail, eight Frikar electric bikes can fit in one parking space.
To facilitate entry and exit from the vehicle, the seat position can be raised automatically. The cabin can comfortably accommodate an adult (from 1.5 to 2 meters in height), plus a child that can be placed on a seat (optional).
A battery ensures a range of 60-90 km, but inside there is room for several batteries. The batteries can be charged inside the vehicle or separately (outside) and are charged by a normal battery charger for ebike included with the bike.
As an option are available, wiper, fan, child seat, tow hook for bike trailer, winter tires and more.
(Watch the video)
For hot days you can remove the fairing, behind the seat is available a space of 160 liters, can be used for example for bags or shopping bags.
The Frikar e-bike is based on the principle of velomobile, reduces transport emissions by a factor of ten or more compared to electric cars and a factor of at least forty compared to modern cars (traditional and hybrid ICE cars). Frikar ebike reduces noise and air pollution, reduces traffic jams, requires less parking space and promotes healthy exercise.
Technical Specifications
| | |
| --- | --- |
| Dimension: | Length 2360 mm, width 839 mm, height 1190 mm |
| Weight when empty: | 90 kg ca |
| Max weight: | 200 kg |
| Max speed: | 60 km/h (downhill) |
| Maximum assisted speed: | 25 km/h |
Frikar ebike is designed to comply with EPAC/Pedelec regulations as defined for the EU, that is, maximum assisted speed 25 km/h, maximum continuous assistance power 250 W. The electric assistance stops working if the cyclist stops cycling.
For more information, visit the website.