Co-generation Wood Pellet Boiler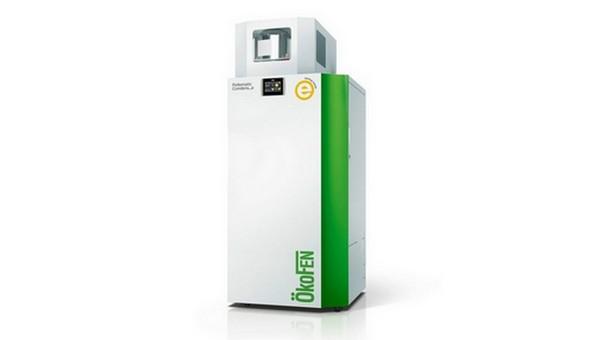 The cogeneration pellet boiler, is basically a normal heat generator which, however, is combined with an energy recovery system that otherwise is dispensed into the environment.
The Okofen recovery system uses Stirling technology, which uses excess heat to move a thermal engine (external combustion) which is connected to an electric power generator.
At the base of the Okofen co-generation pellet boiler, there is the Pellematic Condens, one of the most efficient pellet condensing boilers .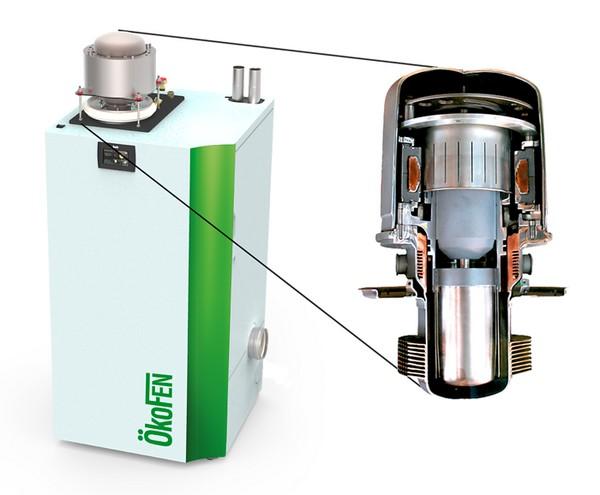 Thanks to the innovative condensation technique Condens, a very high efficiency and a particularly low emission level are achieved.
Pellematic Condens_e, represents the integrated version with Stirling engine in a compact assembly that makes it possible to install this boiler in rooms just 2.15 m high.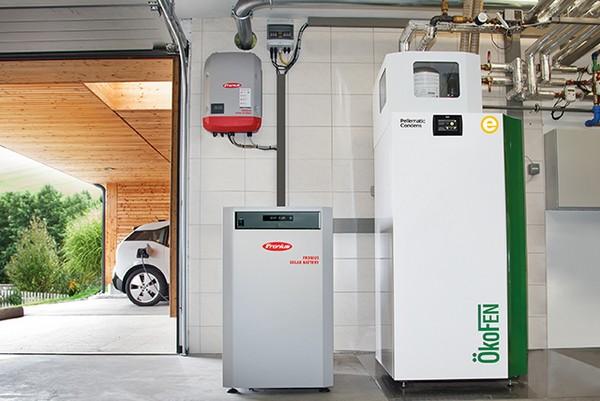 The Stirling engine, filled with helium, is positioned above the pellet combustion chamber. The energy is formed via two different temperature zones which heat or cool the working gas. The different expansion of the gas forms a compression wave which moves a piston and produces current.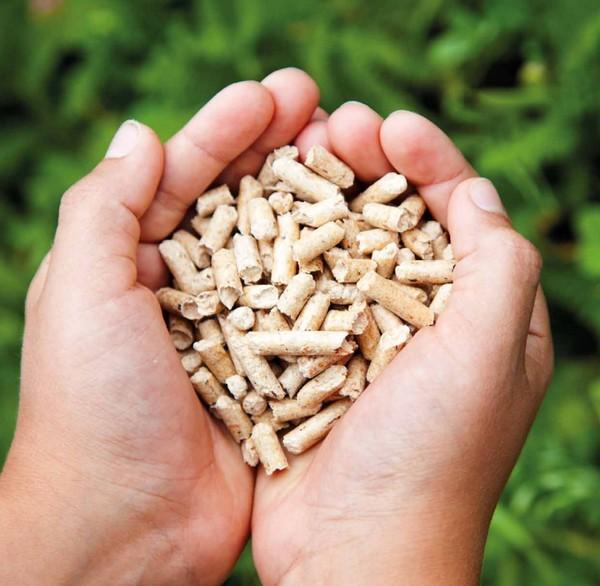 The engine works through the heat of the pellet boiler, this means that the consumption of pellets remains almost unchanged, allowing the production of low cost electricity. The minimal reaction time also makes electrical power quickly available.
The stirling engine does not require maintenance and produces alternating current (230V, 50Hz) which can provide a maximum power of 1kW even on cloudy days, i.e. when a decline in efficiency from photovoltaic systems is expected.
An intelligent system integrated in the Condens_e, allows a simple and fully automated cleaning of the heat exchangers in the Stirling engine. This ensures reliable operation with minimal maintenance.
The Condens_e is equipped with gradual levels of performance, during the mid-seasons and in the summer months, the thermal power of the system is reduced to 9 kW. This results in optimal operation even during periods with less heat demand by exploiting the use for sanitary needs to produce electricity.
During the coldest days, the pellet boiler, which produces electricity, automatically increases the thermal power until it reaches a peak performance of 16 kW. The nominal electrical power of the system reaches 600 Watts under optimal conditions.
Technical features
| | |
| --- | --- |
| Minimum height of the room | 215 cm |
| Measurements (width / depth) | 73 x 72 cm |
| Nominal heat output | 9 kW |
| Maximum heat output | 16 kW |
| Nominal electrical power | 0.6 kW |
| Maximum electrical power | 1.0 kW |
For more information, visit the website .