Rotating Platform for Cars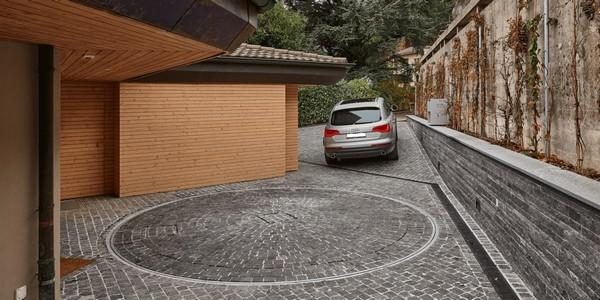 When it comes to parking the car in the backyard, the space available is not always enough to make a reversal maneuver and be able to exit in the desired direction.
The Idealpark rotating platforms, specially designed to move vehicles, allow the car to rotate in the desired direction in areas where maneuvering spaces are reduced.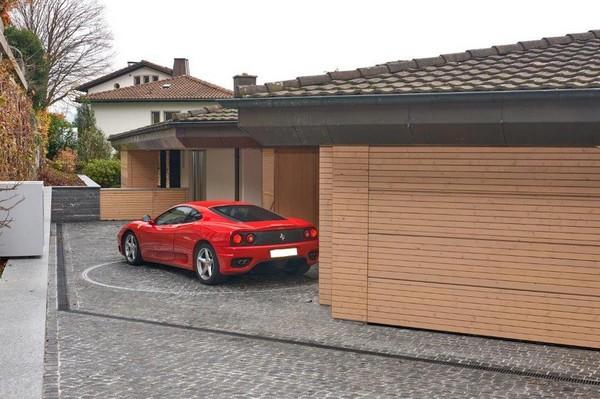 The rotating platform 505, has a diameter of 4500 mm for a load of 4000 kg, its positioning requires the preliminary realization of a deep pit 200 mm about.

Upon request, it can be prepared to accommodate the finishing flooring (100 mm thick without exceeding 250 kg/m2) in order to blend with the surrounding one.
The platform can also be installed on inclined planes, up to a maximum inclination of 2%. The structure (standard model) is made of galvanized steel, on request as an option is also available in stainless steel.
(Watch the video)
The rotation is 360 º and can be both left and right, the operation is via the control panel (hold-to-run comand).
This type of platform, allows outdoor installation in climates not too rigid, if temperatures drop below 0 degrees, it is necessary to provide a heating system (at customer charge).
The 506 rotating platform differs from the previous model in that it can adapt to any existing surface, has a thickness of only 45 mm for a diameter of 4400 mm.
The maximum handling capacity is 3000 kg (maximum load per wheel 750 kg), while it can be crossed by a maximum load of 4000 kg.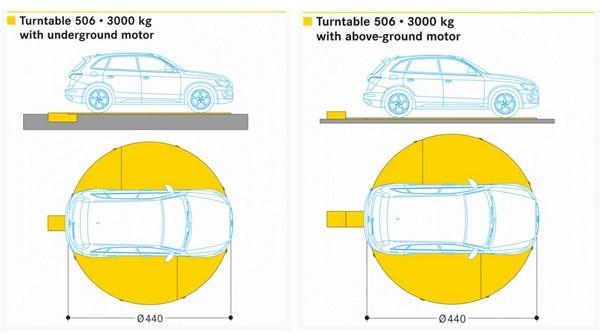 The platform can be installed at a maximum inclination of 2 % (in any direction). It is necessary that the laying surface is very uniform ( 1 cm) and properly reinforced so that it is able to withstand a pressure of about 20 N/cm2.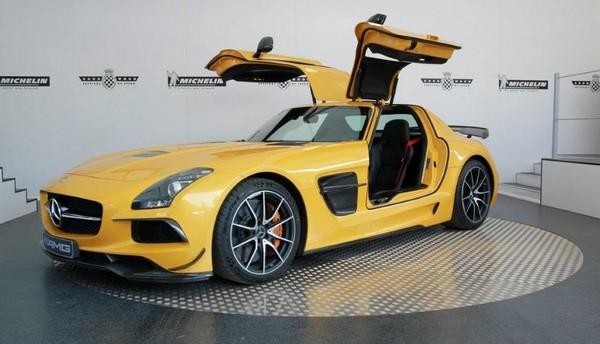 The platform will be fixed to the floor by means of dowels, floor anchors or similar. This platform in the standard version is finished in aluminum as an option you can request the stainless steel finish.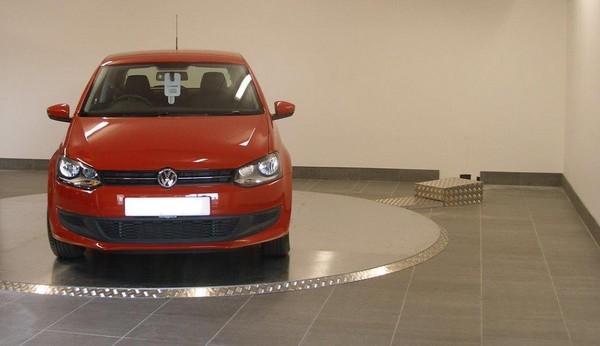 Operation is via the control panel, with 360 rotation right or left.
For more information, visit the website.