Protective Film for Shoes

CleanStep XTC is an automatic device capable of applying a sheet of thermo-shrinking plastic material under the footwear in order to eliminate direct contact of the sole with the floor.
At home it can replace slippers to protect the floor from scratches and dirt. Wellness salons, swimming pools, beauty centers, hotels, museums are places where the cleanliness and integrity of the floors are an important issue for many reasons. A tough film covering the sole of the shoes can help keep floors in proper condition, thereby reducing dirt and surface damage.

CleanStep, represents a convenient alternative to traditional shoe protectors. This device uses the method of welding a shrink foil, which allows a quick and precise protection of shoes of any shape and size.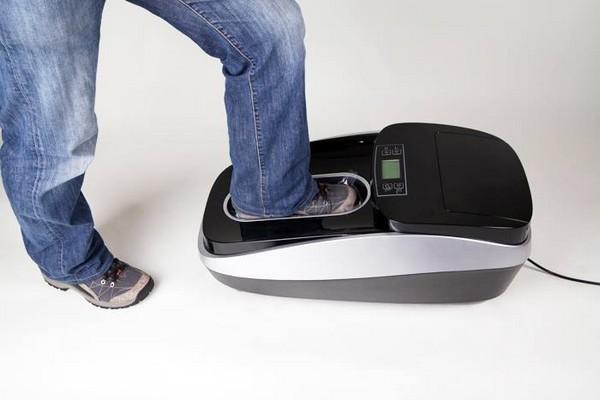 The device is fast and effective: the sheet adheres firmly to the shoes, thanks to which the sole will be carefully isolated from the ground, preventing the transfer of germs from one environment to another.
(Watch the video )
The material used is high-quality and recyclable PVC, which provides durable surface protection against dirt and bacteria.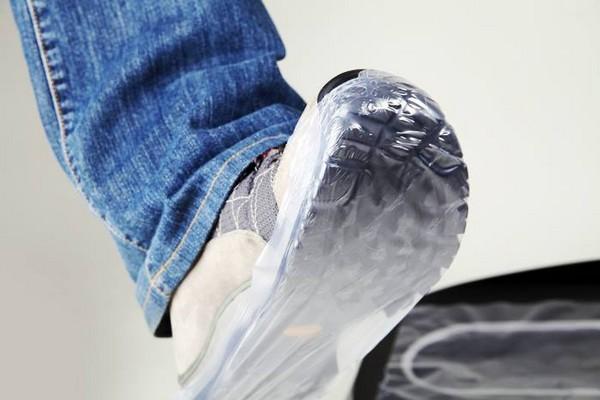 Thanks to the use of automatic charging technology, the whole process is hands-free and there is no need to bend down. The user-friendliness, the integrated LCD display and the high comfort of use, make CleanStep suitable for anyone.
Compared to other traditional footwear protection systems, CleanStep proves over time, to be less expensive and more practical to use.
Technical Specifications :
| | |
| --- | --- |
| Dimensions: | 80 × 44.5x33cm |
| Weight: | 21.5kg |
| Preheating time: | ≈120s |
| Film reload time: | 3-5s |
| Film application time: | 2-3s |
| Capacity: | 1000 pieces |
| Voltage: | 230V |
| Consumption for 1 use: | 75W |
| Maximum absorbed power: | 1300W |
For more information, visit the website.