Off-road Wheelchair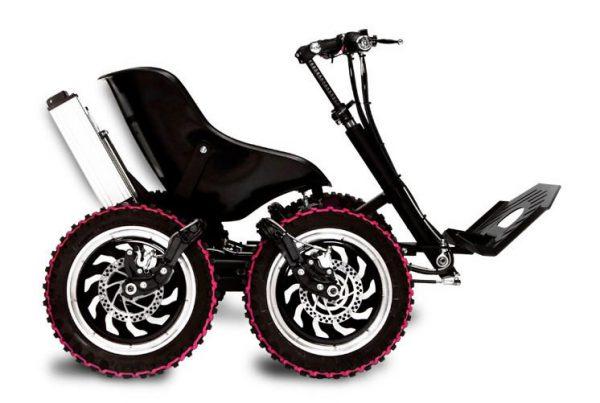 Zoom is a 4wd electric off-road vehicle that can take the driver from the sidewalk to the wild nature, that is, beyond the limits reachable with a normal vehicle.
This vehicle can be used on the beach, on forest trails or up and down the mountain slopes. It can be used for hunting and fishing, or just for a quiet ride in the forest.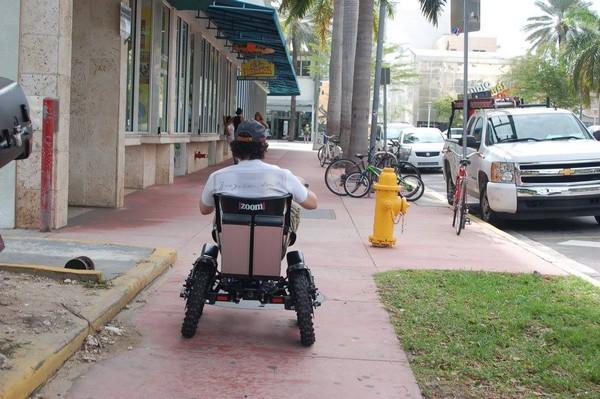 Zoom offers mainly a sense of freedom, a freedom that is normally not possible for people with mobility difficulties.
Zoom is basically an off-road electric wheelchair suitable for recreational use. It has a permanent symmetrical all-wheel drive designed for use on rough terrain.
The patented frame design ensures that all four wheels remain in contact with the ground regardless of the surface type. This provides continuous all-wheel drive performance in all conditions.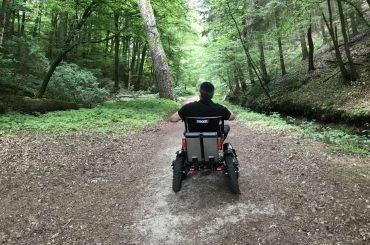 The Zoom chair weighs 100 kg, can be lifted by two people to carry it in an SUV, a pickup or a small trailer, but it is enough to use the aluminum ramps provided as an option.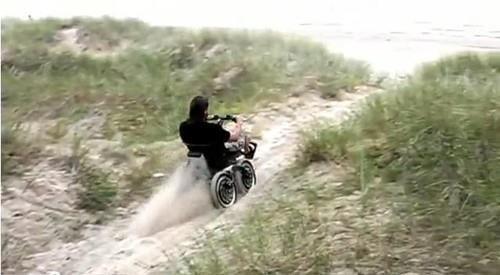 Zoom has a maximum speed of 20 km/h, but can be reduced to 10.1 km/h or 4.8 km/h for off-road use.
With Zoom, driving on sand, snow, mud, uphill or downhill sidewalks is a pure pleasure. You just need to avoid driving in salt water. This vehicle is driven using only arms and hands, which offers a safe, yet extraordinary driving experience.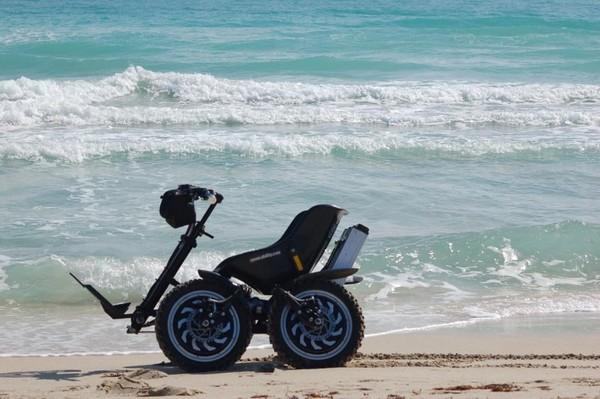 Depending on the country in which it is used, Zoom is considered an electric wheelchair with manual steering or a motor device for recreational use, in many European countries it is registered as a Class 1 medical device according to MDR/20217. Before buying it is advisable to inquire about local laws.
(Watch the video)
If local laws allow use on sidewalks, it is necessary to maintain a "walking pace" of 4.8 km/h, for safe use it is recommended to wear a helmet.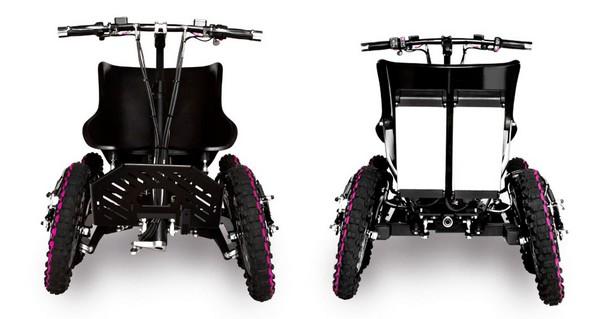 Technical Specifications:
| | |
| --- | --- |
| Traction | 4-wheel drive |
| Max speed: | 20 km/h |
| Acceleration: | 0-10 km/h in less than 2 seconds |
| Torque: | 210 Nm |
| Power: | 4 kW |
| Batteries: | 2 x 48V / 10Ah [LiFePO4 Battery Cells] |
| Autonomy: | 40 km |
| Recharge cycles: | > 800 |
| Charging time: | 2-3 hours |
| Wheight: | 100 kg |
| Wheels: | 12×2.5" air chember |
| Brake system | Hydraulic with disc brakes |
| Max Passenger weight: | 100 kg |
| Dimension: | 1346 x 732 x 762 mm |
For more information, visit the website.