Stop Moisture In The Walls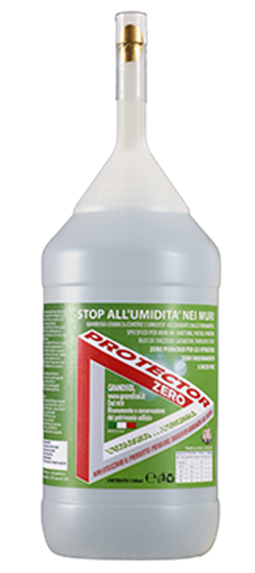 PROTECTOR ZERO is a cutting-edge product in countering the problems of humidity at the base of the walls. Humidity is often due to capillary rising with the consequent manifestation of phenomena of chalking, peeling and mold formation that make the environments unhealthy.
This product against humidity is composed of a special plastic bottle (patented) containing 1300 ml of water repellent solution that, reacting with the structure, forms a permanent anti capillary barrier.
The solution is characterized by an exceptional resistance to salts, breathability to water vapour and inalterability over time.
PROTECTOR ZERO belongs to the new generation of water repellents based on organomodified siloxanes dissolved in demineralized water and is characterized by the low emission of volatile VOC (Volatile Organic Compounds), substances and by the absence of flammability and toxicity.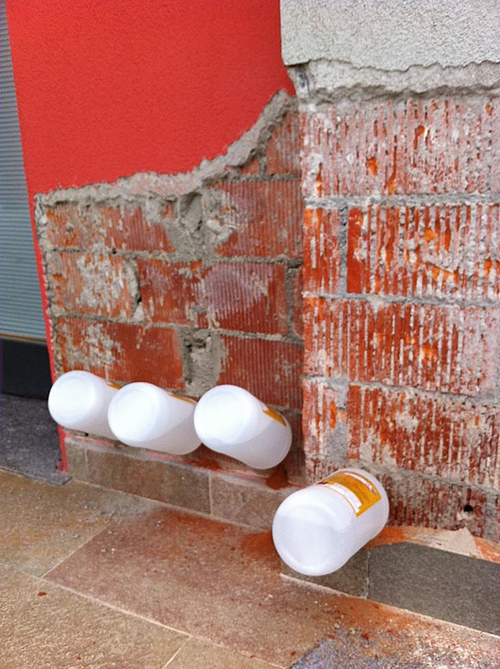 This product has a low molecular weight that allows excellent penetration in depth, without however chancing the permeability to water vapour or the superficial chromatic aspect.
(Watch the video )
The particular chemical structure ensures a high stability to alkali and therefore a better durability of the barrier.
It is a non-flammable product, with low VOC (Volatile Organic Compounds), ecological, easy to install, does not require the use of specific pumps, masonry work or specialized personnel.
After impregnation, the active compound contained in PROTECTOR ZERO reacts with the components of the structure, coating the capillaries and preventing rising water from being able to adhere to them, but leaving the transpiration to water vapour unaltered.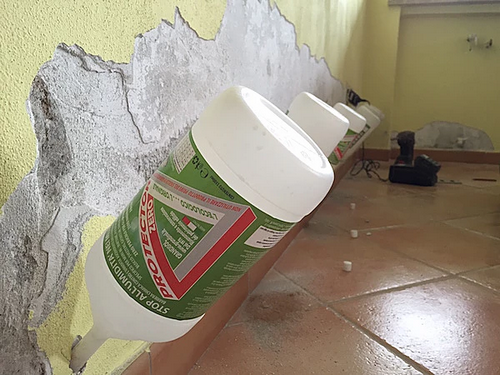 For the application simply follow the following steps:
Check the thickness of the wall;
Drill a series of oblique holes with a percussion drill with a diameter of 16 mm, inclination of about 20 ° / 30 ° at a height of 10/15 cm from the ground;
Insert a bottle of PROTECTOR ZERO in each hole and let it empty completely;
Finish with cement or lime.

At this point the barrier thus formed, activates within 48 hours and prevents the wall from absorbing water from the ground.
For more information, visit the website.