CNC Robot Mill
Goliath is a frameless CNC machine , it can be placed directly on the working surface: this innovative operating mode makes it a portable and autonomous robotic machine with an unlimited working area.
The user can design or download drawings from the online project libraries, then upload the design to Goliath and check the progress of the work from a computer.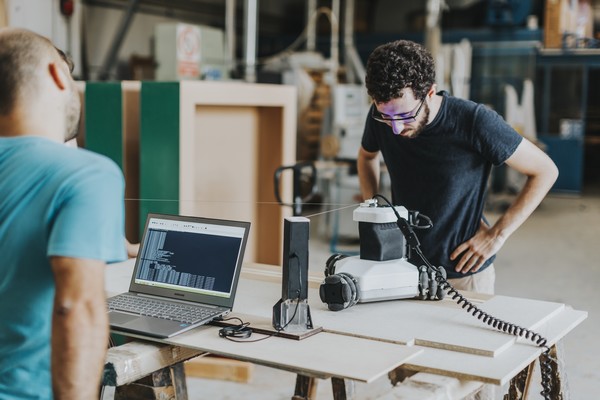 The size and price make Goliath much cheaper than a machining center, these features make it perfect for a wide range of users. DIY enthusiasts , artisans, designers, producers, scenography and events, interior decorators, the construction industry and shared workspaces such as schools, universities and co-working spaces.
(Watch the video )
Goliath's portability is one of its most outstanding features: its footprint is smaller than most desktop CNC machines. Goliath CNC is designed with two handles at the top, so it is easy to lift to work on tables or on the floor.
The sensor system offers Goliath CNC a gigantic working area of 3 x 2.5 m. Thanks to its portability, the workspace can be easily extended, making it practically unlimited.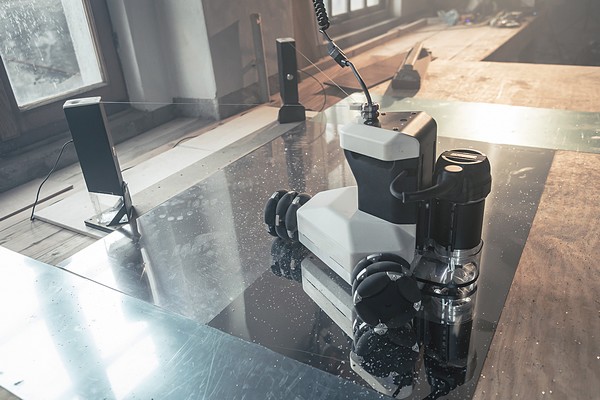 Goliath is equipped with a patented sensor system that triangulates the position of the robot with incredible precision. Sensors continuously update Goliath's position with respect to the work area thanks to radio frequency communication.
The sensor system on one side allows the robot to detect its position, so that Goliath can correct the path in case of loss of wheel traction, and on the other side allows the user to define the working area of Goliath CNC during the installation phase.
Specifications
| | |
| --- | --- |
| Dimensions: | 400 x 400 x 300mm |
| Weight: | 15kg |
| Battery charging | via USB port |
| Maximum working area: | 3 x 2.5m |
| Maximum cutting depth: | 35mm |
| Accuracy: | 0.1mm |
| Integrated vacuum cleaner connection | Yes |
For more information, visit the website .