Portable CNC Cutter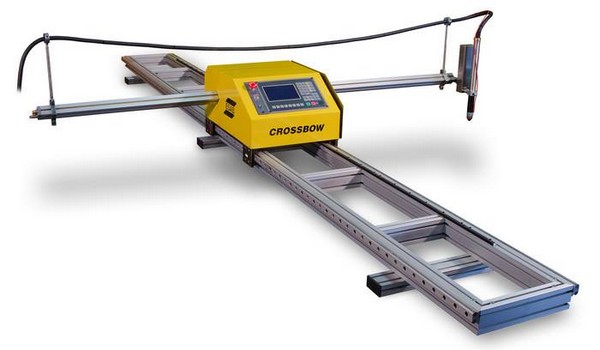 Crossbow is a compact, portable and cost-effective CNC cutting system. Characterized by the absence of the constraints of the structures and movements connected to the cutting plan, it is suitable for small workshops with little space available or for work on construction yards.
The precision linear guide system minimizes vibrations ensuring accurate cutting across the entire work area. A precision guide ensures stable crossbar movement and full support of the cutting torch for reliable performance.
(Watch the video )
Automated functions and a fully integrated and intuitive control offer high versatility in oxy-cut or plasma processing. The simple menu interface is easy to learn and use.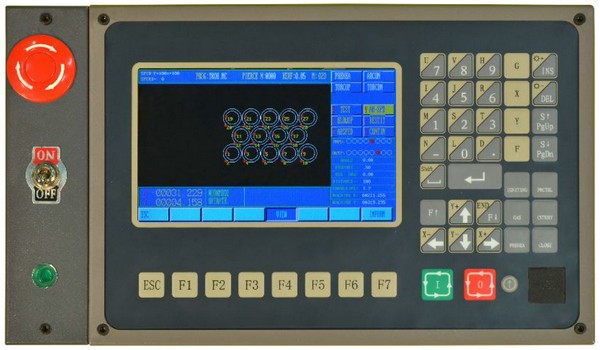 Characteristics of the CNC
Integrated library of common shapes;
USB port for loading programs;
32 MB of memory;
Nesting with quick layout configuration;
Kerf compensation;
Activation by switch;
E-stop button.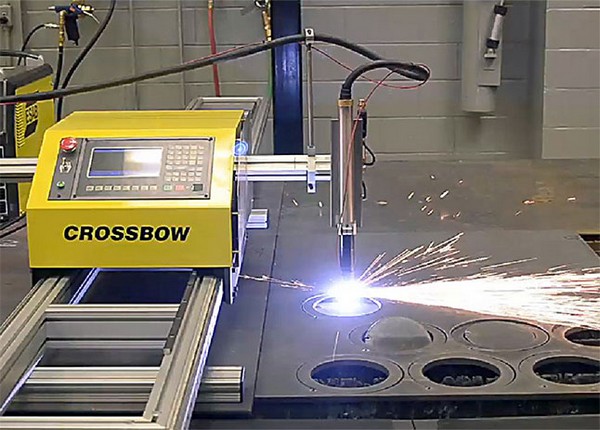 The Crossbow system can be equipped with plasma, oxy-fuel or both.
The plasma allows to cut mild steel or aluminum up to 20 mm or stainless steel up to 15 mm. Using oxyfuel, mild steel up to 100mm thick can be cut.

Plasma cutting
ESAB's simple and reliable air-plasma systems are equipped with non-high frequency start-up and electronically controlled pilot arc circuits for high reliability.
These systems include:
Motorized lifting systems;
Arc voltage height control;
Height detection by ohmic contact sensor to set the optimal drilling height;
Quick release torch without tools to quickly switch from mechanized plasma cutting to manual use;
Compatible with most plasma systems;
Oxyfuel
Standard features such as a solenoid valve for cutting oxygen and adjustable timers for preheating and drilling make flame cutting with the Crossbow quick and easy.
| | |
| --- | --- |
| Crossbow – Technical characteristics | |
| Useful cutting width | 1550 mm |
| Useful cutting length | 3100 mm |
| Maximum travel speed | 3000 mm / min |
| Overall length of the crossbar | 2362 mm |
| Overall length of the runway | 4000 mm |
| Overall dimensions (CNC feed unit) | 600 x 460 x 420 mm |
| Total weight | 96 kg |
| Input voltage | 230 VAC, 50/60 Hz (110 VAC, 50/60 Hz) |
For more information, visit the website.