Portable Manual Printer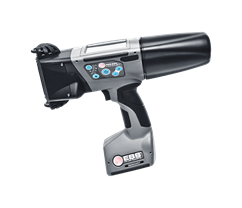 HANDJET® EBS 250 is a portable manual inkjet printer, ultra-compact and lightweight with print head with electromagnetic valves.
This unique device, weighing only 980 grams, was created to satisfy users who need to quickly mark, code and label products of the most varied shapes.

This portable printer is characterized by an affordable cost and its use by the operator is not particularly complicated: the HANDJET® EBS 250 model offers all the basic features of INK-JET printers.

HANDJET® EBS 250 with its patented printing technology replaces manual encoders (such as stencil machines, stamps and coil encoders, which are laborious and expensive to use and problematic in ink handling).
With this tool, it is possible to make durable and legible prints on a variety of surfaces, smooth, porous and even of irregular shapes, such as pipes, barrels, bags, boxes, building materials.

The printing technology is non-contact, with the exception of the spacer guide roller, which synchronizes the movement with the printing process..
(Watch the video )
The device offers full freedom of printing, is equipped with automatic updating functions of date, time and various contactors. It is possible to use standard Windows® (True Type) characters and graphic symbols and to print the texts on successive lines or on various sides of the object.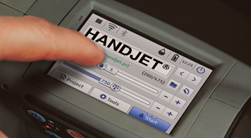 Furthermore, it is not only possible to print text, but also graphics, logos, barcodes and 2D codes up to 32 points.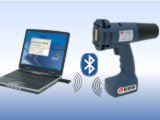 The HANDJET® EBS 250 model can be connected to any PC, via WiFi, Bluetooth, or via the USB interface.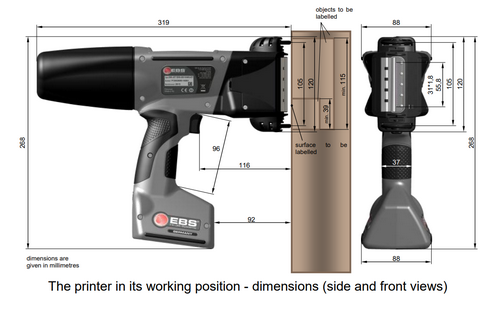 Operation is guaranteed by a rechargeable lithium-ion battery (charging time approximately 16 hours) and by the ink cartridge with which it is possible to print up to 200,000 characters.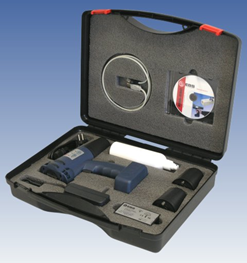 The printer comes with a convenient carrying case, power supply (24V / 1.25A) for charging, power cord, two standard rollers and a spray bottle of ink cleaner.
For more information, visit the website.