Folding Motorcycle Trailer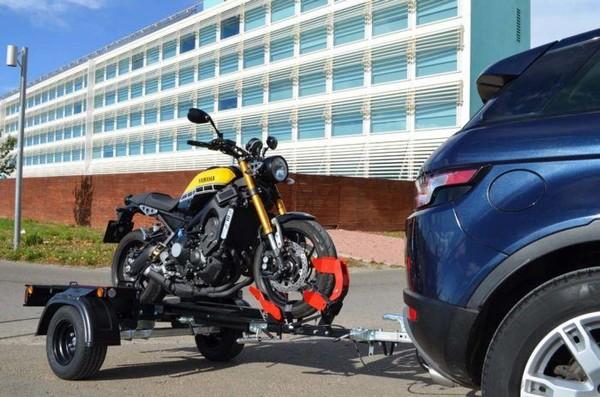 The Plus500 trailer by LittleWay is a convenient appendage trailer for the transport of two wheels which, when not in use, can be folded on itself. It is an EU approved and patented system.
The design of this trolley has been taken care of in order to make it foldable, telescopic and tilting, features that allow you to save space once closed.

The Plus500 trolley ensures great stability and total autonomy in the motorcycle loading and unloading operations.

A hydraulic stabilizer facilitates the positioning of the motorcycle, ensuring that the movements of the trailer (inclination) are damped when the vehicle's centre of gravity moves.

Practical non-slip side ramps allowing you to rest your feet, offer great stability. Also thanks to them, the bike will maintain a good balance and will be well secured on the trailer.

The system is developed so that the bike remains stable at all times, thanks to the fixing of the front wheel to the wheel stop and to the central anchors. Included in the delivery is a set of straps to secure the bike.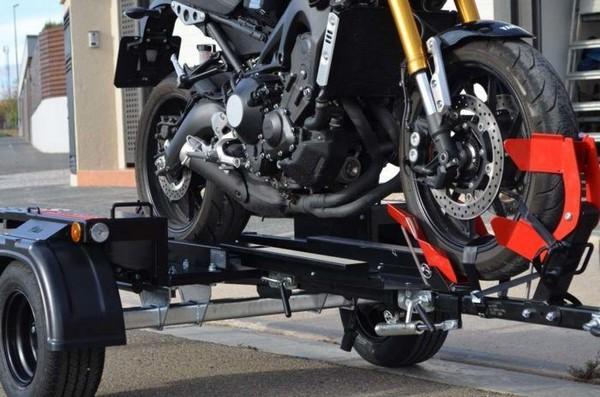 The folding and opening system, thanks to the pins, the automatic release devices, the folding bar and the telescopic ramp, allows operations to be carried out quickly and without the use of tools.
(Watch the video )
The trailer is also equipped with auxiliary wheels to be transported once folded (trolley system). The jockey wheel helps to move the trolley when not attached to the vehicle.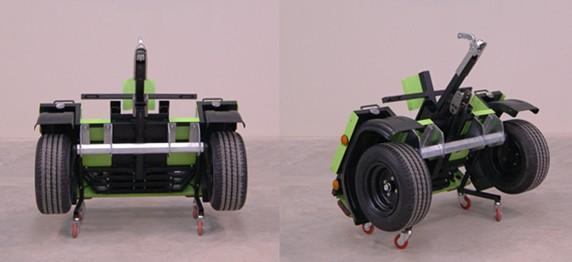 The plus500 trailer is designed to be manufactured with advanced technologies. The structure is made of galvanized steel and oven painted.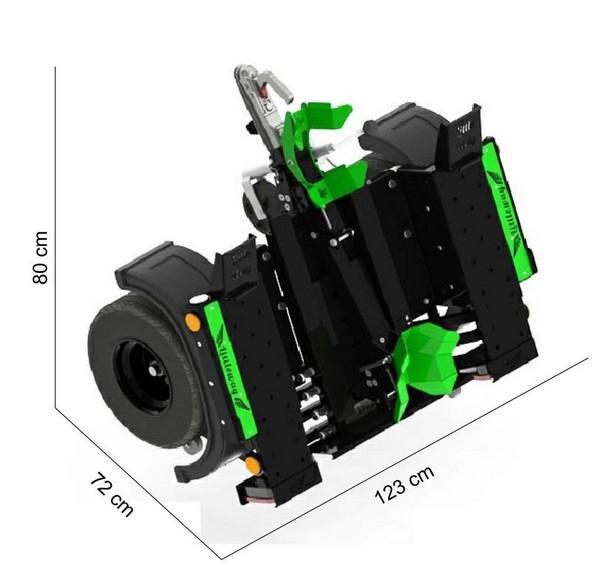 It folds up to 73 cm, the ramp is oscillating and has special telescopic platforms to support the feet when the bike is loaded, ensuring greater safety.
| | |
| --- | --- |
| Technical specifications | |
| Trolley type: | Extendable modular multipurpose |
| Useful load: | 605 Kg |
| Axle load: | 750 Kg |
| Empty weight: | 168 Kg |
| Useful length: | 300 cm |
| Useful width: | 150 cm |
| Type of lights: | RADEX 6400 |
| Tire size: | 195-55-10C 98 / 96N RADIAL R701 |
| Connection Type: | 7 POLES |
| Type approval: | European Nº: e9 * 2007/46 * 3103 * 00 |
For more information, visit the website.