Photovoltaic Roof Tiles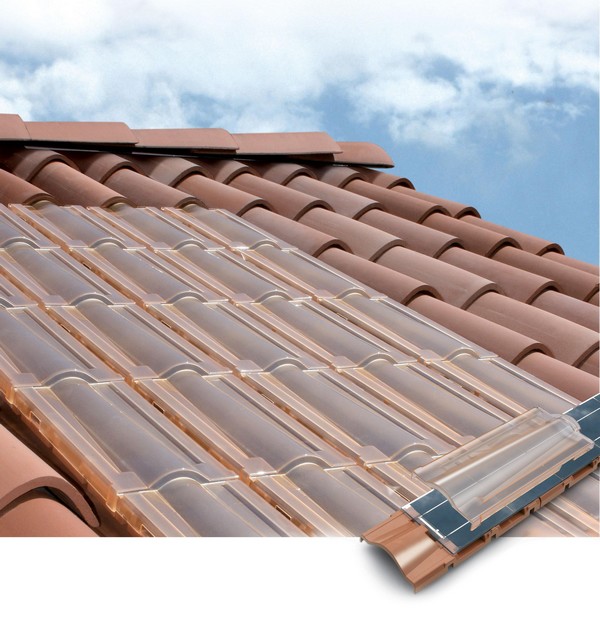 Techtile System, is a system of photovoltaic panels that exploiting the shape of the roof tiles integrates perfectly in their profile. This technology transforms the roof from a passive element with the only function of coverage, to an active element that contributes to the energy needs of the home.
Techtile System consists of the following elements:
Support and accessories in ASA technopolymer, resistant to foot and hail;
Photovoltaic module composed of latest generation polycrystalline silicon;
Plus protective glass in PMMA technopolymer, with high transmittance and resistant to foot and hail.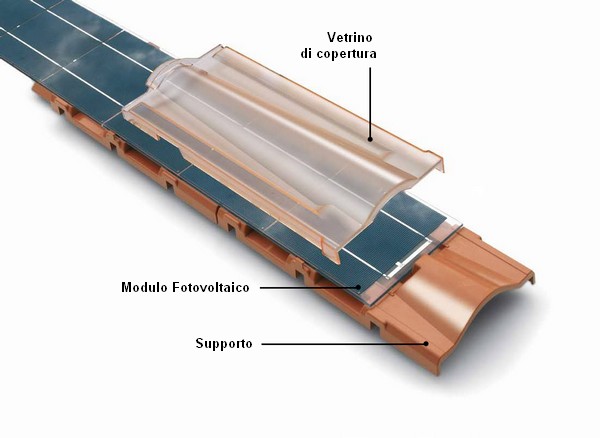 The Plus glass is a panel protection accessory that makes the Techtile Smart system even more integrated into the roof of the building.
Techtile Smart consists of supports on which to install photovoltaic modules of variable length which are placed in view on the Techtile Basic roof .
With Techtile Smart it is possible to design photovoltaic systems of various shapes and sizes, thanks to the possibility of installing the modules in different configurations.
There are numerous solutions for arranging the modules: vertically, horizontally or alternating with the brick elements of the roof.
All Techtile components are made of selected materials and of the highest quality to offer the highest guarantees of durability and resistance to atmospheric elements and natural deterioration.
The Techtile Basic is the pre-arrangement of the roof for the laying of supports and photovoltaic modules.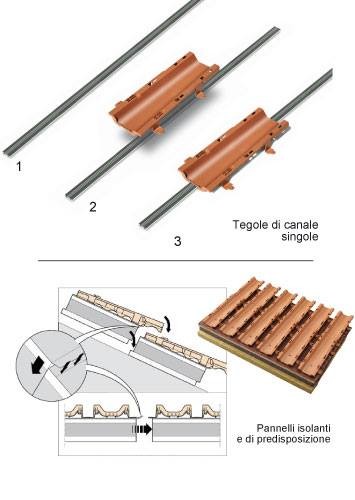 This pre-arrangement allows a great architectural integration, and is suitable for different types of solar systems, on it it is possible to rest indifferently:
Roof tiles;
Traditional photovoltaic modules;
Techtile Smart.
Techtile Basic can be placed on any type of roof like a normal terracotta roof tile.
Techtile Basic is available both in single elements and in pre-assembled panels and can be installed on wooden roofs, concrete or slats using normal screws and dowels.
The "pre-assembled panels" solution allows you to quickly build insulated roofs, both thermally and acoustically, and ventilated.
To facilitate the laying of Techtile Basic, special aluminum profiles are provided that, fixed to the roof, allow the tiles to be mounted by means of a practical joint.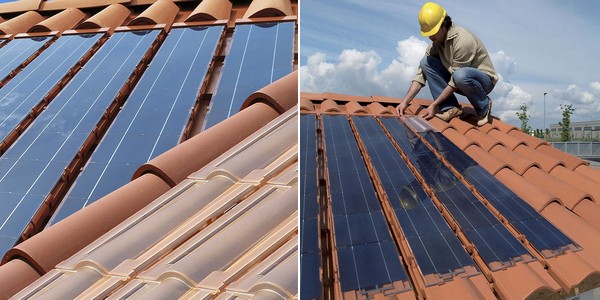 Techtile Smart is laid like a normal roof tile, manually and without the aid of any equipment, easily and quickly.
The assembly of Techtile Smart is simply carried out thanks to the "forced step" determined by the Techtile Basic pre-arrangement, which guarantees perfect alignment of the tiles, both horizontally and vertically.
The electrical connection of Techtile Smart to the electrical panels is carried out as that of a traditional photovoltaic system.
To achieve maximum integration with existing roofs, Techtile System and all Techtile Smart accessories have been developed in a range of colors which currently includes 3 variants:
From the energy point of view, to produce 1 kWh of electricity is necessary about 9 square meters of covered area with Techtile Smart and 11 square meters of covered area with Techtile Smart and glass Plus.
The power of Techtile Smart modules is guaranteed for 10 years on 90% and for 25 years on 80% of the minimum power indicated.
For more information, visit the website.